The First Offline Lecture of No.5 Academic Salon
was Successfully Heldbythe College of
Environmental Science and Engineering, Nankai University
On the morning of March 20, 2023, Dr. DOU Yi , an Assistant Professor at the University of Tokyo, Japan, was invited to the College of Environmental Science and Engineering to deliver a lecture on "The 'New' Energy Resource Crisis and Circular Economy Practice in Japan's Carbon Neutral Era". This lecture is also the first offline lecture of No.5 Academic Salon held by our College. Professor WU Jing hosted the lecture.
Dr. Dou's research interests include circular economy and eco-industrial park planning, urban renewal and carbon-neutral strategies, and the impact assessment of strategic emerging technologies. During his lecture, he discussed Japan's past efforts in dealing with the energy and resource crisis, highlighting classic cases and practices of eco-industrial parks and the local circular economy in the country. In response to the global trend of achieving a decarbonized society, the Japanese government has significantly advanced its timeline and increased the proportion of renewable energy in the energy supply structure. However, this has led to a surge in resource imports and waste energy devices, which has put pressure on Japan's resource recycling system.
Dr. Dou presented his group's research on circular economy to tackle the "new" energy and resource crisis in the carbon-neutral era. The study included predicting the future energy-saving potential in the building sector during urban renewal, a pilot project for reducing emissions by supplying steam from incinerators directly to large industries, and promoting advanced resource recycling systems for photovoltaic panels and lithium batteries in Japan.
Dr. Dou's lecture provided valuable insights for the faculty and students of our college, particularly those studying energy resource management and circular economy. The informative and innovative lecture created a robust research atmosphere that opened new horizons for academic research in related fields. It also facilitated international academic cooperation and promoted the improvement of research levels among faculty and students.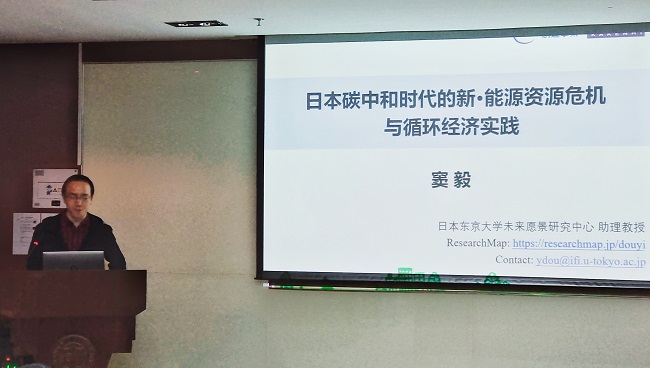 Reported and Translatedby CAO Yunmeng