From November 10 to 11 2021, Prof. Mohan Munasinghe, the joint winner of the 2007 Nobel Peace Prize, Senior Energy Advisor to the President of Sri Lanka and Former Vice-Chairman of the United Nations Intergovernmental Panel on Climate Change(IPCC) was invited to be an online guest of the fourth 'Global Public Capacity' International Organization Youth Training Camp of Nankai University,and shared two lectures on Sustainable Development, Sustainable Economics and Climate Change.
The special lectures were organized by the College of Environmental Science and Engineering of Nankai University. Professor WU Jing and the college vice dean-Prof.FENG Yinchang hosted the two lectures respectively.
Before the lecture, Prof. FENG Yinchang extended warm welcome to Professor Mohan Munasinghe on behalf of the college, and appreciated professor Mohan Munasinghe's in-depth research and fruitful achievements in sustainable development, energy environment and climate change over the years. She looked forward to further academic cooperation with Prof.Mohan Munasinghe to jointly promote interdisciplinary research in the fields of sustainable development and climate change.
Professor Mohan Munasinghe looked forward to the future cooperation between the two sides and fondly recalled his precious experience of meeting with his father during Premier Zhou Enlai's visit to Sri Lanka as a child.He highly appreciated the excellent achievements in the loads of fields such as sustainable development and climate change, and looked forward to further strengthening cooperation with the College of Environmental Science and Engineering, Nankai University.
In the special lectures onSustainable Development, Sustainomics and Climate Change, Professor Mohan Munasinghe divided the lectures into two parts- Sustainomics Framework and Balanced Inclusive Green Growth (BIGG) Path and Climate Change Case Study.
The event was broadcast live on the online platform from November 10 to 11, and more than 600 stuff and students participated in the event.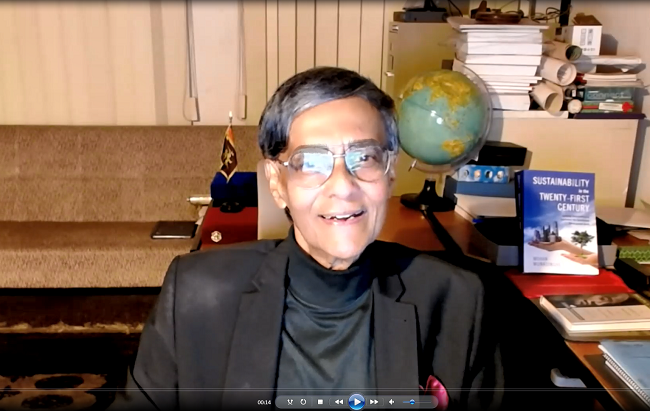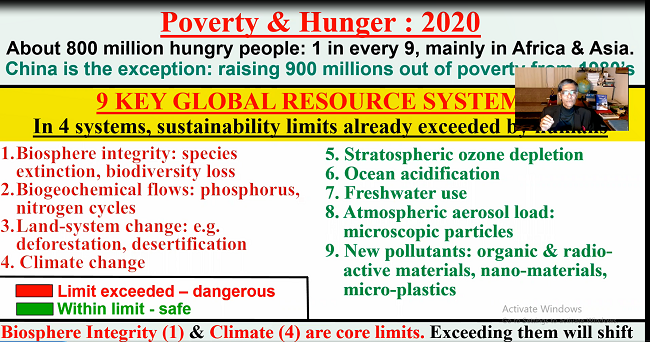 Reported by Mengchu Li
[Expert Introduction]
Prof. Mohan Munasinghe is the 2021 Blue Planet prize Laureate and shared the 2007 Nobel Prize for Peace, as Vice Chair of the UN Intergovernmental Panel on Climate Change (IPCC-AR4). Currently, he is Founder Chairman of the Munasinghe Inst. of Development (MIND), Colombo; and Distinguished Guest Professor, Peking University, Beijing, China. He has earned post-graduate degrees in engineering, physics and development economics from Cambridge University (UK), Massachusetts Institute of Technology (USA), and McGill University and Concordia University (Canada). Prof. Munasinghe has also received several honorary doctorates (honoris causa). Highlights from 40 years of distinguished public service include working as Senior Energy Advisor to the President of Sri Lanka, Advisor to the United States Presidents Council on Environmental Quality, and Senior Advisor/Manager, World Bank. He has taught as Visiting Professor at leading universities worldwide, and won many international prizes and medals for his research and its applications. Prof. Munasinghe has authored 120 books and over three hundred and fifty technical papers on economics-business, sustainable development, climate change, power, energy, water resources, transport, environment, disasters, and information technology. He is a Fellow of several internationally recognized Academies of Science, and serves on editorial boards of a dozen scientific journals.